Skip to Content
Home > Services & Products > Burial Vaults
DO I NEED A BURIAL VAULT?
Yes. The easy answer is yes. Burial vaults are not required by Federal, State or Local Government, but all local cemeteries require them. Burial Vaults, also known as Outer Burial Containers, help protect the casket from the weight of the earth around it, as well as cemetery equipment that passes over the graves. Just like caskets, vaults are available in many styles, from a basic concrete vault to a fancier sealed vault. All vaults must meet the cemetery requirements. We can check with the cemeteries to see what is permitted.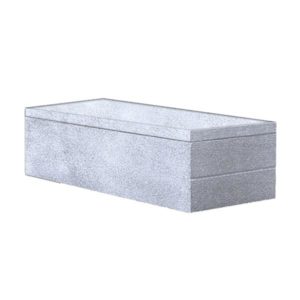 Graveliner Burial Vault  $475.00
Unsealed Concrete Box
Drainage Holes
Cemetery may require you to purchase a graveliner vault directly from them.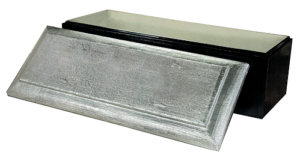 Simplex or Similar Model  $800.00
High-strength seamless concrete, reinforced with steel wire/rods
Asphalt coated exterior to resist moisture
Tongue and groove design
Specialty compound triple seal
Silver lid only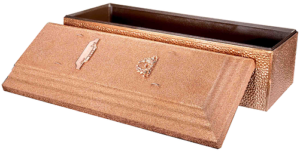 Van Gard or Similar Model  $1,400.00
High-strength seamless concrete, reinforced with steel wire and rods, and bonded to a hard-plastic liner
Texturized asphalt coated exterior to resist moisture
Tongue and groove design
Specialty compound triple seal
Nameplate (name of deceased, year of birth and passing, and one emblem- cross, flowers, military, etc.)
Choice of lid color over quartz crystals
Arched lid and body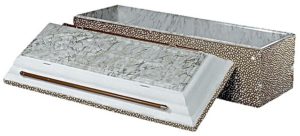 Grecian or Similar Model $2,300.00
High-strength seamless concrete, reinforced with steel wire and rods, and bonded to a hard-plastic liner
Texturized asphalt coated exterior to resist moisture
Tongue and groove design
Specialty compound triple seal
Nameplate (name of deceased, year of birth and passing)
Choice of lid color over quartz crystals
Arched lid and body
Decorative handles and carapaces lid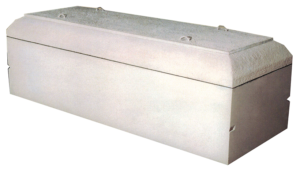 Century Burial Vault or Similar Model   $700.00
High-strength, quality steel wire and rod reinforced concrete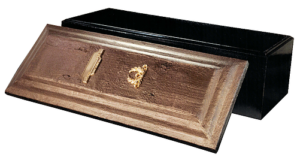 Falcon or Similar Model  $1,000.00
High-strength seamless concrete, reinforced with steel wire/rods
Texturized asphalt coated interior and exterior to resist moisture
Tongue and groove design
Specialty compound triple seal
Nameplate (name of deceased, year of birth and passing, and one emblem- cross, flowers, military, etc.)
Choice of lid color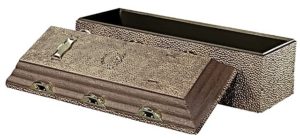 Supreme or Similar Model  $1,700.00
High-strength seamless concrete, reinforced with steel wire and rods, and bonded to a hard-plastic liner
Texturized asphalt coated exterior to resist moisture
Tongue and groove design
Specialty compound triple seal
Nameplate (name of deceased, year of birth and passing, and one emblem- cross, flowers, military, etc.)
Choice of lid color over quartz crystals
Arched lid and body
Decorative handles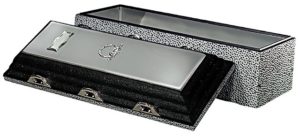 Atlas or Similar Model $3,600.00
High-strength seamless concrete, reinforced with steel wire and rods, and bonded to a hard-plastic liner
Corrosion resistant stainless-steel liner
Texturized asphalt coating
Tongue and groove design
Specialty compound triple seal
Nameplate (name of deceased, year of birth and passing, and one emblem- cross, flowers, military, etc.)
Choice of lid color over quartz crystal
Arched lid and body
Decorative handles
Serving Families with Quality Merchandise at Affordable Prices